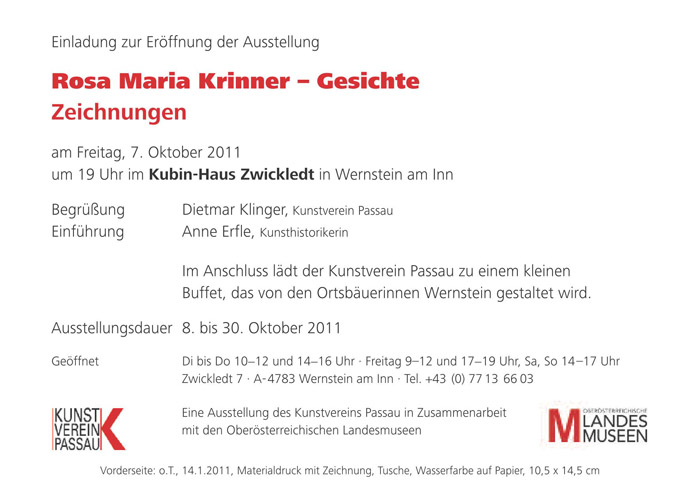 Introduction by Anne Erfle - Exhibition, Munich, Zentralinstitut für Kunstgeschichte, October 29, 2009
Rosa Maria Krinner
Physiognomies
Watercolo(u)rs and Drawings 2007 – 2009

"My watercolors and drawings are expressions of my feelings". This is how Rosa Maria Krinner herself describes her works on paper: biomorphic creatures, grotesque beings, faces emerging, drawn with watercolors from the paint box, with gouache, pencil or ball pen they come into live spontaneously. One has to look carefully, get absorbed by the cloudlike forms, in order to perceive these figurations. Then, heads become visible, with old or childlike features. Some heads remind one of photographs of embryos, forms surrendered without protection, their eyes wide open. These are drawn as well as marked faces (marked by sorrow), frozen, paralyzed, grown stiff, dissolved in liquid, soaked and drenched; and it is above all the eyes which catch the attention of the beholder. From cloudy, watery grey-tones these eyes find their way into the consciousness, sometimes empty and lifeless, sometimes fearfully widened. They transpire a feeling of helplessness, of being thrown into the world. To some of them Rosa Maria Krinner has added parasites, creatures, which have already digged their claws into their necks.
The artist is not interested in the beautiful, the smooth, the even and polished surface, in sweetness or the amenities or comforts of life. Instead, she prefers the reality and truth to sheer beauty. The beholder becomes affected by these existentialist pictures. He can feel the sorrows of these intimidated creatures. Hidden features come to the surface spontaneously in the process of drawing, and the artist allows her unconsciously appearing feelings to manifest themselves on the piece of paper. She uses a small pad with spiral binding, a block of squared paper. It is her permanent companion, whom she entrust everything, when she wishes to hold onto her personal sentiments. Not in words, but in pictures. And every picture tells a story. These are not precisely defined stories. Rather, they seem to represent a psychogram of her views and perceptions of human nature, making the lines of life visible and existential fears and anxieties perceptible. At this point, the artist brings in herself personal sensations and has her emotions absorbed in a watery grey. And though Rosa Maria Krinner does communicate her personal impressions, every beholder will nevertheless experience them individually, and according to his or her own associations, provoked by them, will bring in his or her own story and link it to these drawings.
© Anne Erfle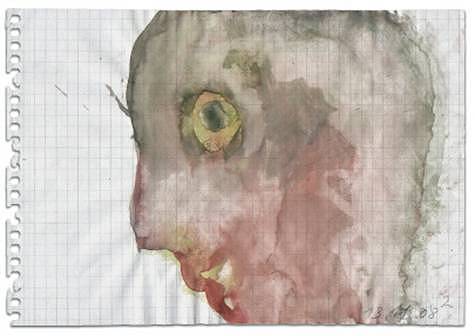 Rosa Maria Krinner "Untitled" 13.11.08/2 pencil and paint (watercolor on paper, 14,5 x 21 cm